Only two lots remaining at the special discounted price in Cedar Ridge, Phelps County, Missouri. Lots 1 and 3. Act this weekend with just $121 down, before the price go back to retail.
| | | | | | |
| --- | --- | --- | --- | --- | --- |
| LOT | ACRES | PRICE | PAYMENT | Discounted Price | Discounted Payment |
| | | | | | |
| 1 | 3.74 | 18,513 | $185/Month | 17,587 | 176 |
| 3 | 5.87 | 24,367 | $240/Month | 23,148 | 230 |
Missouri, Phelps County, 3 to 12 Acres Cedar Ridge Ranch SPECIAL . TERMS $170 to $340/Month

| | |
| --- | --- |
| | |


3 to 12 Acres Cedar Ridge Ranch, Phelps County, Missouri
Our Price: SPECIAL 5% Discount. $17,850 to $34,860. No Qualifying financing. Instant Online Purchase Available.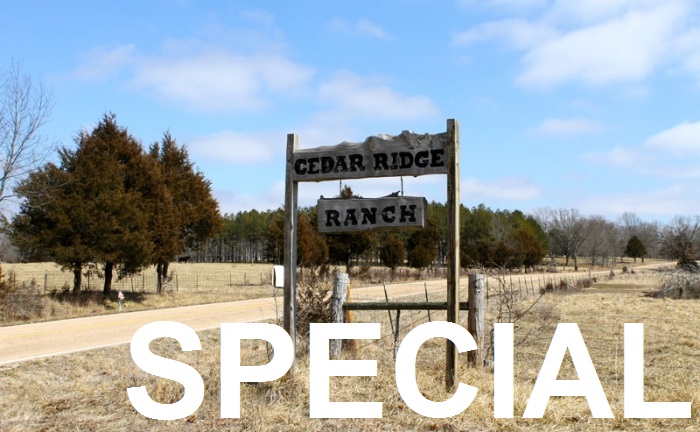 Street View of Property

View Larger Street View
This part of Missouri is absolutely gorgeous. Residents enjoy a variety of outdoor activities centered around the natural attractions. The subdivision is within a short drive of the beautiful National Scenic Riverways and within just a few miles of thousands of acres of recreational public lands.
While enjoying the friendliness of the small town environments, local citizens are able to take advantage of the opportunities and services found in the larger municipalities nearby.
The Ozark Foothills Region is an excellent place to start living your dream "country" life!
Access is via paved State Highway K. All tracts have been professionally surveyed and all corners are marked.
Location

and Legal




Description

Cedar Ridge Ranch, Phelps County, Missouri
Looking North

Looking South



Available Lots





| | | | | | |
| --- | --- | --- | --- | --- | --- |
| LOT | ACRES | PRICE | PAYMENT | Discounted Price | Discounted Payment |
| | | | | | |
| 1 | 3.74 | 18,513 | $185/Month | 17,587 | 176 |
| 3 | 5.87 | 24,367 | $240/Month | 23,148 | 231 |

INVEST or RESELL!

SIZE:
3 to 12 Acres
TAXES:
Less than $50
Per Year/Per Lot

UTILITIES:

Electricity in Subdivision.

Covenants

RULES
Phelps County, Missouri

Phelps County, Missouri, was established November 13, 1857. The county was named for the honorable John Smith Phelps, then prominent Missourian and U.S. Congressman, and later governor of Missouri from 1877-1881. The first county court convened on November 25, 1857 in the John Dillon cabin. The historic courthouse was begun in mid-summer of 1860, used as a union hospital during the Civil War and served as the courthouse until February, 1994, at which time all county offices were relocated in the new Phelps County Courthouse. The new courthouse was dedicated on May 22, 1994.

Rolla, Missouri - is the nearest large town and offers all the amenities and comforts of home.

Rolla will surprise and delight you with its colorful history lessons and vivid reminder of "how things were". Take a step back in time and experience Rolla's fascinating railroad history or "Get Your Kicks on Route 66"! Catch a glimpse of a younger America along this famous historic highway once known as the "Mother Road".

Broadway talent can be found right here in Rolla. Ozark Actor's Theatre, one of only two professional theatres in Rural Missouri, and Missouri S&T's Leach Theatre are wonderful venues to explore the performing arts. From orchestras to comedians, illusionist to acrobats, the options are endless.

If galleries and museums are your forte', Rolla has that too! Several artists and artisans are drawn to the region by its natural beauty, so the art scene in Rolla is a lively one. We invite you to visit area galleries and art exhibits.

Rolla offers a wonderful variety of recreational opportunities. SplashZone, fitness facilities, golf courses, go carts, parks with lakes for fishing, the possibilities are endless! Some of the most beautiful waterways are just outside the Rolla area. They are perfect for fishing canoeing and enjoying the pristine beauty of the Ozarks.

Be sure to not miss the numerous wineries located in St. James. For the outdoor enthusiasts, Mark Twain National Forest offers thousands of public land for camping, hunting, hiking and exploring. Maramec Spring is an exceptionally beautiful spring and produces an average of 96,000,000 gallons of water per day. The spring branch here is a mile long, with no fishing allowed upstream of the road bridge. Unlike the other three Missouri trout parks, Maramec has no separate fishing zones. Owned and operated by the foundation authorized and funded up by Mrs. Lucy Wortham James, 300 of the park's 1800 acres are available for public use.
Montauk State Park
Just down the road, and offering some of the finest trout fishing in the Midwest,

Montauk State Park

is located at the headwaters of the famed Current River. The park's springs combine with tiny Pigeon Creek to supply 43 million gallons of water to the river each day. The cool, clear stream is an ideal home for rainbow trout, and the scenic valley is the perfect setting for camping, hiking and other outdoor pursuits.

Anglers descend on Montauk State Park from March 1 to Oct. 31 for the official trout season, and on winter weekends for a catch-and-release season. After a day of fishing, you can tour the park's trout hatchery, managed by the Missouri Department of Conservation. Early settlers first established Montauk as a self-sufficient community in the early 1800s. A gristmill, built in 1896, is open seasonally for tours.

For visitors wishing to spend a night or more in the park, Montauk offers a wide variety of choices. The large campground, equipped with modern restrooms, hot showers and dump stations, features both basic and electric sites. The park offers rental cabins with kitchens, modern fourplex cabins and motel rooms for guests choosing to spend the night indoors. A modern dining lodge opens daily during the trout season and on weekends during the catch-and-release season.
Mark Twain National Forest
Mark Twain National Forest borders this property.

Missouri's only national forest, the Mark Twain, encompasses roughly 1.5 million acres, mostly within the Ozark Highlands. Located across southern Missouri and northern Arkansas, the Ozark Highlands are an ancient landscape characterized by large permanent springs, over 5,000 caves, rocky barren glades, old volcanic mountains and nationally recognized streams. Portions of the Ozarks were never under oceans, nor were the areas glaciated.

A trademark of the Mark Twain is plant and animal diversity. The area is described by The Nature Conservancy as a "biologically rich ecological resource." The eastern upland oak hardwood and southern pine forests converge here with the drier western bluestem prairie of the Great Plains, creating a distinctive array of open grassy woodlands and savannas. This rich mixture of unique, diverse and ecologically complex natural communities (some 65 in all) provides a home for nearly 750 species of native vertebrate animals and over 2,000 plant species. The number of species that are endemic or restricted solely to the Ozarks eco-region (almost 200 species) rivals those found in the tropics or glacial eco-regions.

Geologic features associated with the karst terrain and igneous outcroppings of the Ozarks provide a wide variety of interest to the landscape. There are sheer rock faces, underground caverns, natural bridges, sinkholes, knobs and caves throughout the Forest. Caves provide habitat for unique animals like cave salamanders and southern cave fish. Shut-in creeks, whose enormous rock boulders restrict flow, create nationally renowned white water kayaking and canoeing opportunities.

Due to the karst topography, there is an abundance of natural springs found in the area. The Ozarks are home to the world's largest collection of "first magnitude" springs (those with over 65 million gallons of water daily flow). Almost 3,000 springs feed rivers and streams that flow year round. Many of these streams are so clear that ten feet of depth appears to be only one foot deep.

Greer Spring, the second largest in Missouri, is considered to be the most pristine and scenic in the state. Discharging an average of 222 million gallons of water per day, Greer Spring more than doubles the flow of the Eleven Point River. The importance of the water resource of the Mark Twain is exemplified by the designation of the Eleven Point Scenic River, one of the first Wild and Scenic Rivers in the nation. These natural features are a destination for many visitors to Missouri.

Today the Forest's large land base is many things to many people, containing some of Missouri's most beautiful and desirable landscapes and providing natural settings critical for the tourism industry. The diverse Ozark topography is the keystone of many recreational opportunities. The Forest provides hiking, hunting, mountain biking, horseback and OHV riding areas that complement other agencies. Over 45 million people are within a day's drive of its unique features and recreation opportunities.
As a financed customer, you will have a safe and convenient way to service your loan account.
> View online statements
> View payment history
> View contracts
> View property taxes
> View property information
LOGIN
or, contact customer service via
phone or email.
You are never alone with an Online Land Sales Land Loan.